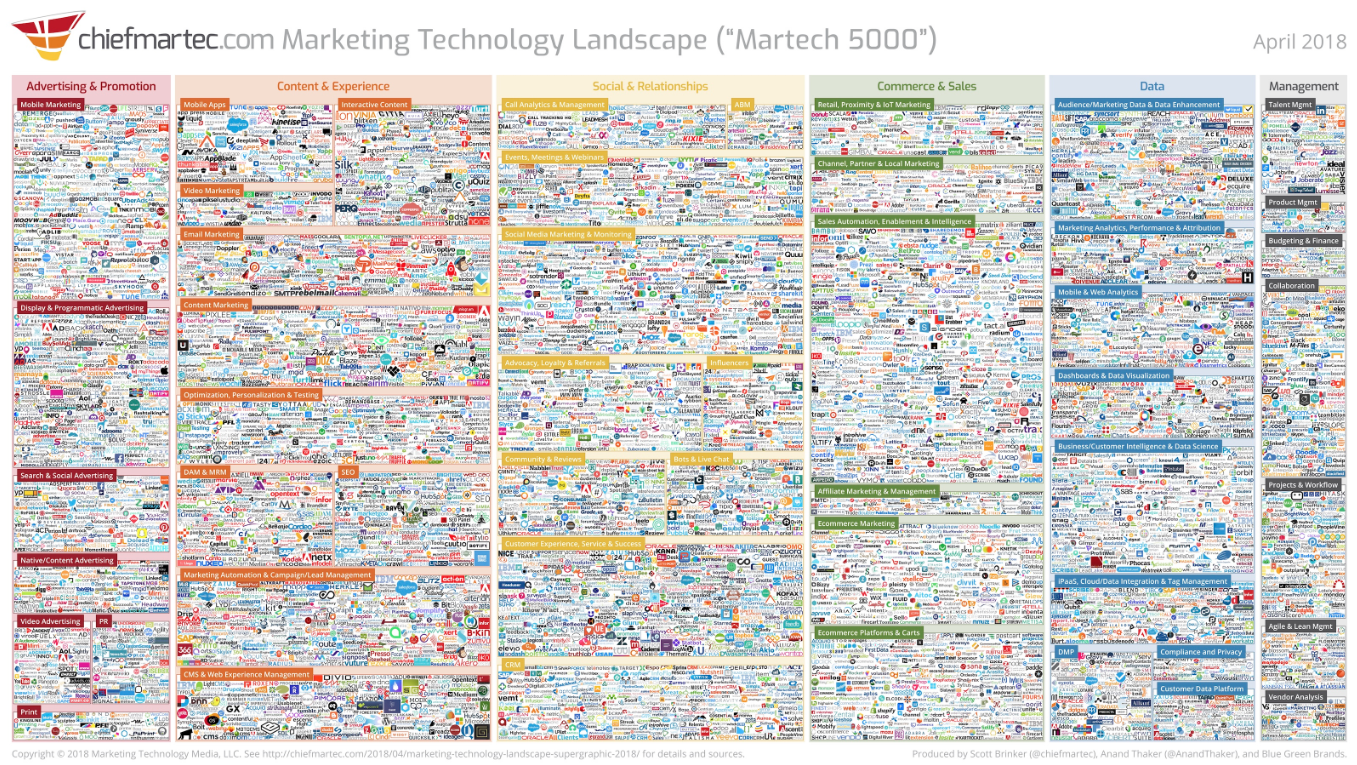 THE sTORIES
Knowing what's in your martech stack will help you determine what content is worth making.
B2B buyers reveal where they find the content that helps them buy and what kind it is.
Reasons you might stay disappointed in your digital marketing results.
Google might start doing something it said it would never do.
here's your Content Marketing Quickie for the week of February 25, 2020.
Key Components of a Martech Stack
No way around it. You may just want to be a writer or a designer or a strategist and do what you do best and specialize in those things. But if you want to stay relevant in and participate in the content marketing conversations going on around you, there has to be at least some understanding of the marketing technology stack. Wait, don't tune out yet. I'm not going to go all tech wonk on you. I'm just going to give you the rundown Lisa Smith did at business2community of the main components you might encounter in that martech stack. Knowing the tools and capabilities you do or don't have will play a large role in what content you make or don't make. It also helps manage expectations. If your bosses skip a tech capability, don't let them expect the results the capability that they skipped would have brought, right? Here are the main marketing tech stack components. Analytics like Google Analytics. It's the tool that justifies all other tools. Behavioral analytics like HotJar and Smartlook. Team Communication, you're probably familiar with Slack. Content which encompasses a lot of functions. Google Docs and Drive for writing and storing, content intelligence tools like Buzzsumo. Plagiarism checkers and Grammarly if gooder writing easily comes not to you. You've got your Content management systems like WordPress. There's the Customer data platform that finds data on your consumer spread out across many touchpoints for an aggregated profile. Everything's gonna be tough if you don't have the Customer relationship management part of the martech stack like HubSpot or ye olde Salesforce. You've got Email marketing platforms Like Mailchimp. Maybe even bulk email validators like Clearout.io to makes sure your stuff goes to real inboxes. Want to do graphic design like a beast, you'll need something like Canva. Project Management tools like Trello help you, you know, manage projects. Marketing automation could be in your stack like Marketo. Need tech help for your SEO? Tools like Ahrefs do keyword research, backlink analysis, competitor analysis, site audits, and a lot more to make you findable. For Social media marketing there are highly recognizable names like Hootsuite, Sprout, or the social component in big marketing suites like Oracle Marketing Cloud. Okay, FAR from a complete list, and a lot of platforms do more than one of these things…but that should give you an idea of the functionalities and info available to you, depending on what checks your company was willing to write.
https://www.business2community.com/online-marketing/heres-everything-you-need-in-your-2020-tech-stack-02281926
The Content that Leads to B2B Sales
You know how B2B marketing works right? You send a prospect an email, they reply later that day saying, "This looks great. I'll take the annual plan. Here's my company credit card info." If you believe that you're licking exotic frogs and trippin. Uberall's VP Marketing Insights Greg Sterling tells us the average, the average, B2B buyer's journey involves soaking in 13 pieces of content. Yeah, that's what a FocusVision poll found. It's as if they don't take spending their money lightly or something. Of the 13, maybe 8 of those content pieces will be from and made by vendors like you. The rest will be 3rd parties who are theoretically writing objectively about you. You're not gonna get any one-night stands with B2B buyers, the process takes around 2-6 weeks and involves 3-4 different internal decision makers. When they were asked how they found the content that led them to a purchase, 70% of B2B buyers said it was the vendor's website, followed closely by Internet search, with social media, email and word of mouth rolling in next. They're looking for content in all four of the buying stages, which are understanding the problem, looking for vendors, short-listing and final decision. If you want to know what kind of content was most useful in helping them make a decision, and if you don't you're flirting with professional malpractice, it's content about product specs and functionality at 67%, then comes product comparisons at 65%, product success stories with 60%, content that shows value to internal stakeholders at 54%, product tutorials at 49% and guidance on the problem and how to solve it with 48%. The bigger the company, the more likely they are to rely on that objective 3rd party content like analyst reports. So you want your company to be chillin' in the good quadrant.
https://martechtoday.com/b2b-buyers-consume-an-average-of-13-content-pieces-before-deciding-on-a-vendor-238540
Why Your Digital Marketing Isn't Working
I hear your cries in the darkness, I really do. All this digital marketing madness and the Hogswart's style magic of SEO should be sending a consistent flow of relevant traffic to your website that results in quality leads, sales, revenue and an all-inclusive luxury vacation at Sandals because your company is doing so well. But it's just…not. Is it you? Are you cursed? Is everyone successful but you? Superb Digital's Paul Morris gives us the top 5 reasons you might be living in a constant latent state of heartbreak and disappointment. 1. You've got traffic but what's up? No conversions! You might be attracting the wrong audience because you don't really know your market or most likely buyer persona. When you know that, your content will draw the right flies to the right poop. Wow that's a terrible analogy. Let's go with bears to the right honey. Avoid cheap writers. If the story and messaging is bad and inconsistent, you'll just confuse everyone. 2. You're looking at the wrong metrics. Vanity metrics are just that, vanity. Stick with conversion metrics like calls, email link clicks, form completions, and downloads. The channels and content that gets those things is where you should shift your money. 3. Speaking of that, you're doing the wrong things on the wrong channels. This goes back to knowing who your target is, where do they go for the kind of info you have to give them? Personas will reveal the platform. Hey that's catchy. Somebody tweet that. 4. You're expecting too much, you utopian dreamer you. Ambitious goals pursued with limited or no resources is professionally immature. If you have a nickel, have nickel expectations. Oh my God I'm really spittin' out tweetable things now. Oh and be patient — especially SEO and content marketing results take time. And 5, your competitors are kicking your ass in SEO. Put your Indiana Jones hat on and find a gap that's not covered then attack that to differentiate yourself. You might want to do an SEO site audit too and spackle what's cracked.
https://www.business2community.com/digital-marketing/5-reasons-your-digital-marketing-is-under-performing-02284239
Ca-Ching, Will Google Start Paying for Content?
Lastly, and quickly…interesting things are happening between Google and publishers. You're familiar with Google, right? You've heard of it? It accounts for about half of all the Internet traffic that exists, then it sells ads against all the content it indexes and make a gabillion dollars and rules the world. Publishers were cool with that, sorta. They like Google driving readers to their websites, but the deal with the devil is that publishers allow a killer ad platform to exist that's also literally a gatekeeper that says who does and doesn't get readers. Enter this new news that Jason Aten tells us about in Inc. That's short for Incorporated but that would clutter up their logo. Google might start paying publishers for content. The WSJ says that'd be a mighty huge change since Google wants to NOT pay publishers so badly, it literally changed how it previews news articles in France to get around their copyright laws that would have required publishers get paid. See brands only have so much money for advertising and over the last decade, it's shifted out of publishers' direct pockets and over to the Googles and Facebooks of the world. Just those two represent 61% of all digital ad revenue. Who wants to play Monopoly? Well last year, Facebook said okay we've got this curated News Tab now, so we'll pay a little something to those publications. Apple's News-Plus subscription for Apple News costs $9.99/month, so they give a taste of that to premium content publishers like The New Yorker and LA Times. It's thought this may be why Google is starting to soften on the idea.
https://www.inc.com/jason-aten/google-could-soon-start-paying-publishers-for-their-content-after-years-of-saying-it-wouldnt.html
That's the Content Marketing Quickie for this week. If you don't need it, that means you know everything and if that's the case, I want to subscribe to your podcast! Back next week.